Newsroom
This page contains all area media releases and commercials.
News
2013 Invite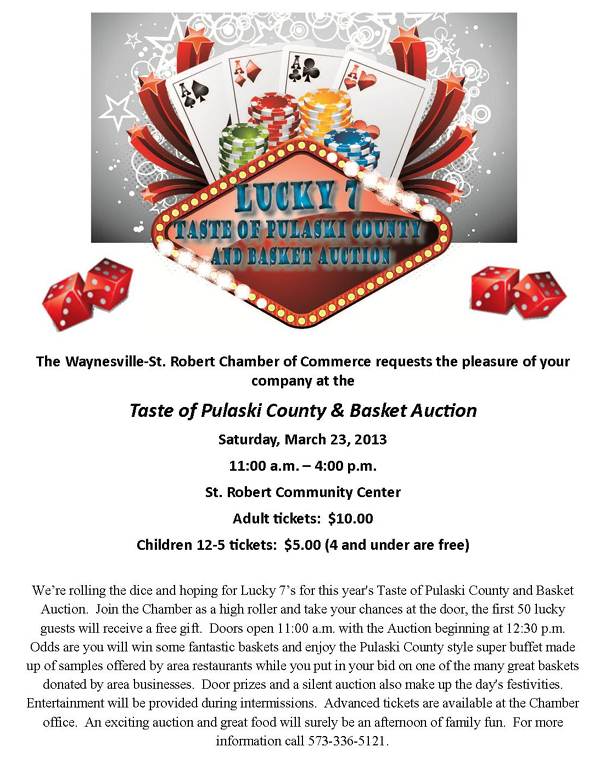 2013 Press Release
The Waynesville-St. Robert Chamber of Commerce is rolling the dice and hoping for Lucky 7's for this year's Taste of Pulaski County and Basket Auction that will take place on March 23rd from 11:00 a.m. to 4:00 p.m. at the St. Robert Community Center. Join the Chamber as a high roller and take your chances at the door, the first 50 lucky guests will receive a free gift. Doors open 11:00 a.m. with the Auction beginning at 12:30 p.m. Odds are you will win some fantastic baskets and enjoy the Pulaski County style super buffet made up of samples offered by area restaurants while you put in your bid on one of the many great baskets donated by area businesses. Door prizes and a silent auction also make up the day's festivities. Entertainment will be provided during intermissions.
Advanced tickets are available at the Chamber office. Adult tickets are $10, Children 5-12 are $5, and Children 4 and under are free. Tickets will also be available at the door. An exciting auction and great food will surely be an afternoon of family fun.
This event is sponsored by CenturyLink, City of St. Robert, Daily Guide, KFLW 98.9 The Fort, Laclede Electric Cooperative, Ozark Coca-Cola/Dr. Pepper Bottling Company, Ozarks Technical Community College/Waynesville Education Center, Pepsi Bottling Company, and Security Bank.
For more information call 573-336-5121 or visit www.tasteofpulaskicounty.com

2013 Radio Commercials
Click play to listen to the 2013 radio commercials.
2012 Radio Commercial
Click play to listen to the 2012 radio commercial.